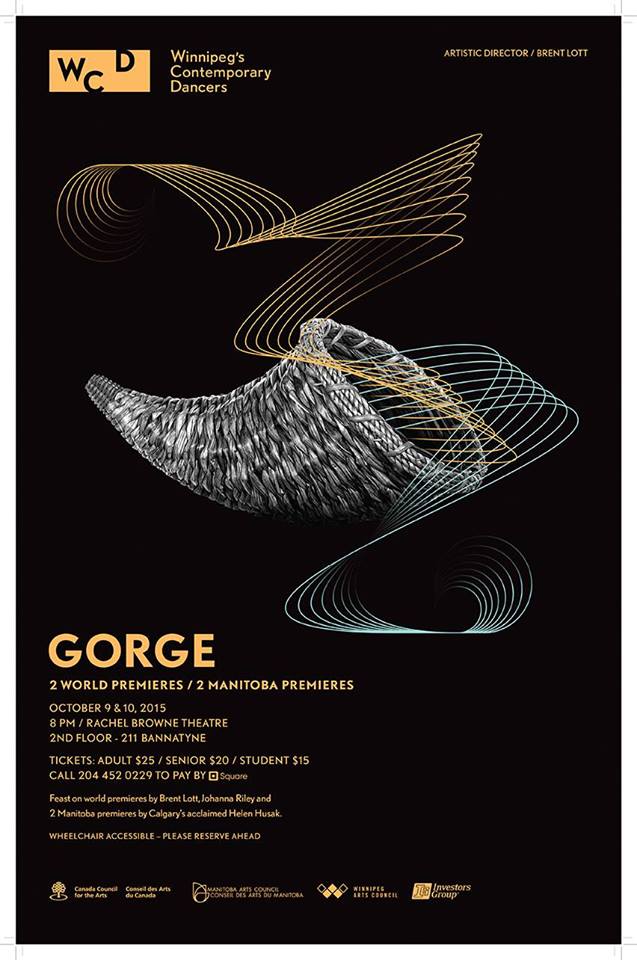 Feast on World Premieres by Brent Lott, Johanna Riley
& 2 Manitoba Premieres by Calgary's acclaimed Helen Husak
GORGE showcases the work of three prairie artists, WCD's Artistic Director Brent Lott, WCD dancer Johanna Riley & Calgary's Helen Husak.
Lott 's work CHASM (a World Premiere) is a new solo created for WCD apprentice Brett Owen that seeks to take you back to the vulnerability of those first movements toward intimacy. Lott's other work on the program is the remount CENTRE OF GRAVITY a duet performed by WCD dancers Brianna Ferguson and Jasmine Allard.
Riley's World Premiere (De)face Me is an exploration of complex dynamics within an intimate relationship, of the shift between tenderness, aggression, carelessness, and connection. The duet features WCD dancers Sam Penner and Warren McClelland
The two Manitoba premieres are new solo works by choreographer Helen Husak, and both oriented toward the darkness and beauty of humanity, one focusing on the performer's psychological environment and the other zeroing in on our natural surroundings. MISE EN ABYME, created with performer Kate Stashko, takes inspiration from eastern European nesting dolls and the work of M.C. Escher to explore ideas of infinity, femininity and confinement. STASIS, a collaborative exchange between installation artist Peter von Tiesenhausen and performer Helen Husak, inhabits the power and vulnerability of the wild, where vast spaces continuously become smaller and smaller microcosms of themselves.
For tickets please call 204-452-0229