(November-January)
with essayists Jillian Groening and Leif Norman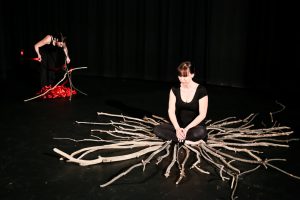 Jaime Black is a Métis multidisciplinary artist based in Winnipeg. Perhaps best known for her pivotal work The REDress Project, an installation project addressing violence against Indigenous women and girls. Jaime's art practice engages in themes of memory, identity, place and resistance.
Currently Researching…
Jaime's work is situated in an understanding of the body and the land as sources of historical and cultural knowledge and is centred around themes of memory, identity, place and resistance. She is interested in the body/land as sites of social and political struggle, sites of historical, and collective memory and as vulnerable and often contested spaces. She is interested in the ways in which we can re-establish agency and resilience through interactions between the land and the body.
-=Team=-
Leah Decter is an inter-media artist and scholar currently based in Winnipeg; Treaty 1 territory. Her work focuses on contested spaces, largely contending with histories and contemporary conditions of settler colonialism through a critical white settler lens. Decter's work has been exhibited, presented and screened widely in Canada and internationally in the US, UK, Australia, Germany, Malta, the Netherlands and India. She holds an MFA in New Media from Transart Institute (Berlin) and is in her final year of a PhD in Cultural Studies at Queens University (Kingston, Canada).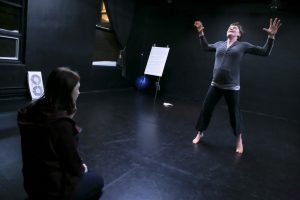 Brenda McLean and Ali Robson                                               Photo by Leif Norman
Brenda McLean is a Winnipeg independent theatre artist, whose focus is on physical theatre performance and design. Recently Brenda has become very interested in Improvisation Dance Movement and Contact Improvisation Dance and how they can be used to create unconventional movement in theatrical performances. Brenda is interested in the combination of Contemporary Dance and Physical Theatre to create hybrid performance techniques with both text and movement. This last summer, she was one of the Choreographers in Company Link summer workshop where they created new choreography everyday with the focus on text and movement with dancers. Brenda is also the founding member of Theatre Incarnate,  www.theatreincarnate.ca and The Talentless Lumps (an all female bouffon troupe).
Currently Researching…
McLean will research with contemporary dancer Ali Robson and mentor Grant Guy, the use of gesture in performance. How does one create gestures, what is gesture, how can it be used as a performance tool, how does one ask or direct gesture work from their performers? Many dancers and actors are asked to generate and create gestures in their performances with little to no training in it, we are going to investigate and train in this technique to better understand how we can use it best as a performance tool.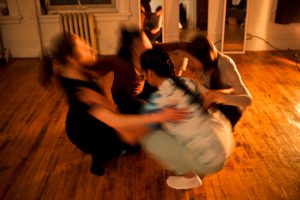 Lise McMillan, Emily Barker, Rayanna Seymour, Kristy Janvier       Photo by Leif Norman
Kristy Janvier is from a small northern community in Canada called Flin Flon and is of Aboriginal (Dene), Irish, and Ukrainian decent. At the age of 18 she had an opportunity to work abroad as a performer in Japan. From there, her love of acting, dance, movement and exploring began. After two contracts in Tokyo and moving to California, Kristy embarked on two cruise ship contracts in the Caribbean before calling Hong Kong home for 8 years.  While in Hong Kong, Kristy began to search out new forms of movement including yoga, contact improvisation, Gaga and other somatic practices which lead to a Hong Kong-Netherlands exchange of artists and debuting her first choreography credit while working with Korean visual artist Soyoung Lee.  Upon returning Canada, Kristy has travelled to Toronto (Kaha:Wi Dance Theatre) and Vancouver (Raven Spirit Dance) to connect with contemporary Indigenous artists in the country. Her vision is to build bridges between the two worlds and filter this work up North. Inspired by all things in nature, Kristy continues to find new ways of connection and creativity.
Currently Researching…
For Kristy's research project, the theme is largely based on water looking at it from the views of bloodlines, the rivers through the province that were once the highway systems of our ancestors and what they are now, the fluids in the body and healing rituals for change. Bringing together three other dancers with Indigenous backgrounds to dialogue and explore movement together to create this dance.
Artist Statement: Exploring space without leaving Earth. My feet have carried me to many place and in many ways. Ising the soles of my feet as landing pads, I allow the grace of my breath to move my body throughout the environment. Upon my recent return to Canada, I have to come to explore my ancestral and Indigenous roots to discover how their feet have travelled these lands. Im drawn to elements of nature, incorporating outdoors spaces, Through dance I'm able to step into the shoes that carry one into a world that cannot be expressed with words.
-=Team=-
Performers:
Rayanna Seymour (Hourie) is Anishinaabe from Naongashiing (Big Island), Treaty #3 Territory. Her parent's are Lorraine Seymour and Raymond Hourie and she has 7 siblings. Today, she is in her second year of law school at Robson Hall, University of Manitoba. Seymour sits on a few Indigenous student groups and works part-time on Anishinaabe nibi Inaakonigewin (water law). Her goal is to continue on in graduate school and become a professor of law one day. One of her favourite activities—besides visiting with nieces and nephews—is dance. She grew up dancing in the pow-wow circle as a fancy shawl dancer, and then started dancing jingle in her teens and has recently picked up her shawl again, so now able to dance both. She also dances Zumba once a week to have some fun and release some stress from studies.
Emily Barker
Lise McMillan
(AUGUST-OCTOBER 2016)
with essayists Praba Pilar and Michel Saint Hilaire
Zorya Arrow                                                                   Photo by Michel Saint Hilaire
ZORYA ARROW is looking forward to developing her new solo work in the Research Series this quarter. A Winnipeg-based dance artist, she holds a BA Honours degree in Dance with a minor in Theatre from the University of Winnipeg. As a graduate of The School of Contemporary Dancers Senior Professional Program Arrow has created over nine original performance works in the dance/theatre scope. Her major dance works have been presented by Nova Dance Collective and as a part of Young Lungs Dance Exchange's (YLDE) Production Series.
Currently researching:
What are our bodies urges? How clearly do they sit in the body? What does miscommunication between the body and the mind look like, and where can one find clarity between the two? By exploring questions around mind-body connection or lack there of in a psychoanalytical way, one researcher Zorya Arrow aims to develop a movement framework for what will eventually be a seven minute dance piece designed for an alternative audience-performer relationship.
==- Team -==
D-ANNE KUBY [mentor] After 12 years with Winnipeg Contemporary Dancers (1979 -1991) D-Anne has gone on to work as an independent performer, choreographer, video artist, teacher, and rehearsal director. She relocated to Vancouver in 1994 but could only deny her prairie roots for so long. She currently resides in Winnipeg where much, but certainly not all of her dancing is done in the privacy of her living room.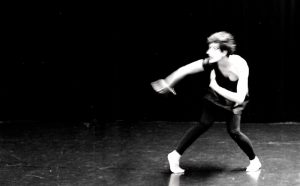 ---
Carol-Ann Bohrn                                                               Photo by Michel Saint Hilaire
CAROL-ANN BOHRN was born and raised in Brandon, MB. She is a graduate of the School of Contemporary Dancers and holds a B.A. Honours degree in Dance from the University of. She has performed work for local choreographers Jolene Bailie, Brett Owen, Ming Hon, Freya Olafson, Odette Heyn, Brenna Klaverkamp, Brent Lott, Alexandra Elliot and Nina Patel. She most recently participated in the Cartae program at aceartinc, where she created her first live piece 'Eudaimonia', her first video piece 'Routine (Mea Culpa)' as well as a series of digital prints. She will be performing at Fem Fest this September with Gearshifting Performance Works. She is interested in somatic techniques such as Feldenkrais, Alexander, Mitzvah, and meditation.
Currently Researching:
How do our thoughts and our behaviours influence one another? How is it that our actions can be utterly detached from our inner state? Carol-Ann Bohrn is interested in how this performative aspect, over time, can be forgotten or unconscious, and how it can turn into the basis of our identities and sense of self. When does a performance of "happiness" help you to overcome your pain? When does it displace your "authentic" experience further? How are traumatic experiences, depression, and the effects of social emotions like shame, guilt, embarrassment, jealously, envy, empathy, and pride processed in our bodies and in our environment?  These ideas are the launching point for Carol-Ann's research this fall. It will be articulated with physicality and video work in collaboration with local artist Madeline Rae.
==- Team -==
MADELINE RAE [collaborator]
hannah_g [mentor]
---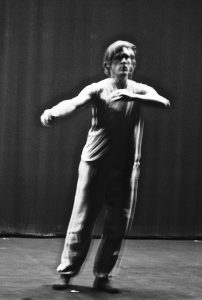 Delf Gravert                                                              Photo by Michel Saint Hilaire
DELF GRAVERT works mainly as an actor, and film photographer, and occasional funk/soul dj.
Most recently, he has finished an experimental film about his mother's photography premiering at WNDX this year.
Last year, aside from doing a solo photography show at Fleet Galleries, Delf also studied Commedia Dell'Arte and Clown at Dell'Arte International School of Physical Theatre in California as part of the Professional Training Program. In 2014, Delf was honoured to have been a part of No Exit, in the role of Garcin, a theatre research production directed by Tom Stroud. He also devises his own stuff including the The Bike Ride, a physical comedy piece co-created with Leigh Anne Parry.  Wonderful weird times were had in 2013 working with Young Lungs in a production, Encounters of the Mankind, alongside Ian Moyzden and directed by Tanja Woloshen. Delf also really digs learning the ancient art of kung-fu at Ching Wu and it is good because he can always make it there on time as it's only a block away from his studio.
Currently Researching:
How does a persons environment affect one's physicality and imagination. Responding primarily with nature, Delf is researching the necessary changes in physicality of say walking on an windswept icy lake in -50 weather, or moving on 4 limbs across an uneven rocky landscape. The seed of the research began in Nunavut with his own responses to landscape through voice, character, costume, and movement studies. How does our environment shape and change who we are, and how must we adapt our way of moving both physically and and with our inner self? The weather, landscape , the sounds we hear, the animals, the people we meet all shaping our reality and imagination, our supposed understanding of ourself.
=- Team -=
RICK SKENE [mentor]
---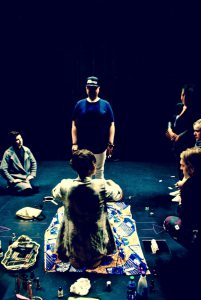 Andrew Henderson and Eroca Nicols                                    Photo by Michel Saint Hilaire
EROCA NICOLS aka Lady Janitor. After earning her Honors BFA in Film/Video/Performance and Sculpture from California College of the Arts (San Francisco, CA), Eroca Nicols' artistic practice shifted to the body. She studied in professional programs in Canada at both Ballet Creole and The School of Toronto Dance Theatre before pursuing further training in functionally based and improvisational forms. She is currently a Toronto-based but nomadic artist, curator and educator. Her company and alter ego, Lady Janitor, has presented work in Canada, USA, Europe, and the UK. Eroca has performed internationally and is co-founder of the arts advocacy and professional training provider, the Toronto Dance Community Love-In.  Her commitment to community based arts engagement has led her to create platforms for presenting both her own work and the work of fellow makers—DIMBY (Dance In My BackYard) and Badass Dance Fun (a mini festival at Toronto's Harbourfront Centre) are among these projects, as is the Love-In. Eroca teaches partnering and contemporary dance including workshops in UK, Europe and North America. Her teaching and training are deeply influenced in her continued study of anatomy and biomechanics.
ANDREW HENDERSON aka Glamdrew.
Currently researching:
(to quote the team)
"Oh hieeee,
This is Glamdrew and Lady Janitor and we're researching a dance piece in Winnipeg, Manitoba. We are -choreographer and mystical nomad, Eroca Nicols (aka Lady Janitor) and -dying, uncelebrated celebrity fashion icon, Andrew Henderson (aka Glamdrew .)
Some important points:
-We have been collaborating together for five years but recently our roles have shifted.
-Two years ago, Andrew was was diagnosed with terminal cancer, and roughly 3 months before that, Eroca got funding to research death rituals and the performance of grief around the world. We are not joking.
-Previous to the diagnosis, Eroca called Andrew "the stage manager of my life" and since being terminal, she has become the co-choreographer of Andrew's death.
-The timing is obviously epic and has led us both into waves of death positivity, or death obsession, as the psychiatrist refers to it.
-Our current research involves deeply committing to practices of femme adornment, femmeditation and self care, finding ways to talk about death and dying in accessible as well as fantastic ways and developing a living funeral ceremony for the person dying as a performative as well as sacred act.
…It could stop there…
Or continue?
It's basically fashion art queers working the latest funeral trends, subsisting in rural Manitoba, while developing a living funeral ceremony called Taking it to the Grave, nbd. The show involves the public confessing their sins and/or telling Andrew stories they want taken to the grave and then images from these confessions being live tattooed on his body amidst some mystical fashion, dancing, divination and ghosting. Taking it to the Grave is a ceremony performance on the verge of life and death.
YLDE Research Series showing: aceartinc October 18, I can't remember the time…
Production run:
Sister Shows…
Taking it to the Grave: October 21, 8pm and October 23, 2 pm
Truthteller: October 22, 8 pm
All at aceartinc…"
=- Team -=
CARLY BOYCE [performer/collaborator]
SUE LAVALEE [mentor]