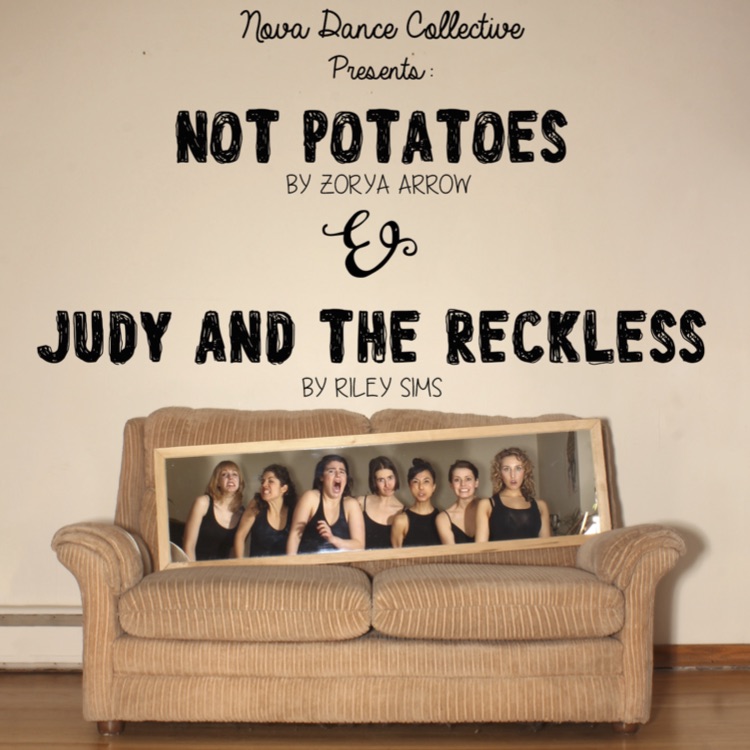 NOT POTATOES ~ by Zorya Arrow
Pondering the thought of growing mental unrest, "Not Potatoes" intimately peeks into the navigation of close-knit family relationships, while orchestrating the challenge of breaking learned behavioural patterns and getting up off the proverbial couch.
&
JUDY AND THE RECKLESS ~ by Riley Sims
"Judy and the Reckless," uses theatricality, athletic dance movement, creature-like vocalizations, text, sneakers and a mountain of clothing to explore themes of life on display, dysfunctional habits and relationships, and extreme or reckless behaviours.
_______________________________________________
March 20-21, Friday/ Saturday 8pm
March 22, Sunday Matinee 2pm
Rachel Browne Theatre (211 Bannatyne 2nd Floor)
$25/ adult
$15/ senior/ student/ artist
Reserve tickets at novadancecollective.com (only regular price tickets can be reserved online)
Tickets available for purchase at the door or from collective members.
Nova Dance Collective gratefully acknowledges the support of Winnipeg Arts Council and our generous donors.
 
Hope to see you there!
 
Nova Dance Collective