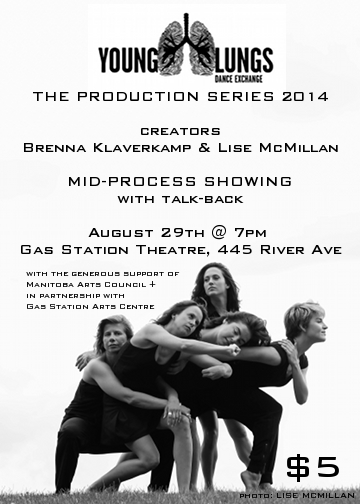 We are happy to announce a MID-PROCESS SHOWING of new works by Lise McMillan and Brenna Klaverkamp.
Get a PEEP at what's being cooked up for September's official presentation of THE annual PRODUCTION SERIES (18th-20th).
AND AND AND Get to PEEP UP when the creators & performers join the audience for a post-show CHAT about idea, image, movement, collaboration and process.
7 PM, Friday, August 29th / Gas Station Theatre, 445 River Ave / $5 at the door
PERFORMERS: Alexandra Elliott, Tanja Woloshen, Carol-Ann Bohrn, Hilary Crist, David Graham, Joel Klaverkamp, Samarah McRorie, Elise Page and Kelsey Todd
Need more information? Contact YLDE.