2021 Research Series Essayists
Young Lungs Dance Exchange is excited to announce the 2021 Essayists who will be working with this year's Research Series artists-in-residence!
MEET THE ESSAYISTS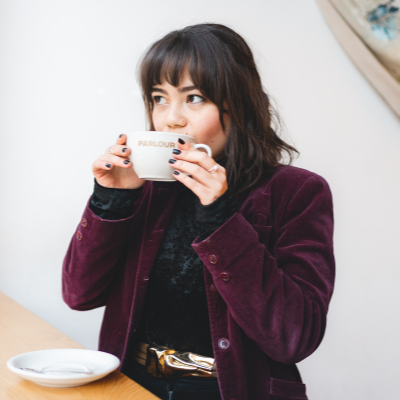 katnancy
katnancy makes 'art', facilitates and writes out of Treaty 1/Winnipeg.
Born and raised in Gimuy(Cairns, Australia), they studied Photographic, Video and Expanded Art Practice and Art History at the Queensland College of Art in Meanjin(Brisbane, Australia) and at the School of Art University of Manitoba.
They have initiated and facilitated various local and transnational discussion groups, and participated in intergenerationally collaborative projects here and abroad. Including founding and co-facilitating The Sunroom Artspace, an all female, artist-run project space in the Exchange and working with the Nepal Picture Library in Kathmandu, Nepal as part of the Doing Visual Politics Symposium.
Practices of play, rest and dreaming, are cultivated, shared and lead every stage of the process, in all aspects of their work. Honouring nuance, fluidity and intuition, the dance continues, and is fed by an ongoing commitment to curiosity and collaboration.
They are currently the Manager of Creative Programming at Video Pool Media Arts Centre and serve on the Board of Directors for WNDX Festival of Moving Image.
---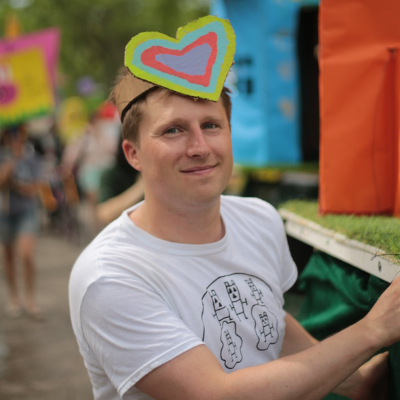 Toby Gillies
Toby Gillies is a multidisciplinary artist, the third generation in his family of art-thing makers, enjoyers, and educators living in Winnipeg. Toby's practice is rooted in a playful exploration of materials, and experiments in collaboration. Projects have taken the form of drawing, installation, filmmaking and animation, ceramic, sculpture, cardboard, parties, social practice.
For a decade, he has been facilitating art experiences in the West Broadway community, where he serves as Studio Programs Manager at Art City and is an Artist in Residence at Misericordia Health Centre. His favourite days are spent making art with older people in the morning, making art with younger people in the afternoon, and then working on creative projects of his own in the evening.
---
Kate Sjoberg
Kate is a settler living and working on Treaty 1. Her writing work includes academic research, journalistic work, opinion pieces, prose and poetry.
"I'm concerned with living in this body, in relationship with others, on Treaty One and Treaty Two territories experientially, politically and historically. My best work tends to come from articulation of felt experience in this body. I'm a WASPy settler with strong Swedish roots." – Kate Sjoberg
---
Essayists
One writer and one visual artist or photographer are paid to participate in the Research Series by creatively responding to the work of the in-residence artists. The point of the program is to allow for exchange across discipline and to create opportunities to broaden the exploration of the artists in residence by offering multiple in-depth perspectives. Writers and visual artists are invited to participate at various times throughout the year.
Young Lungs accepts a letter of interest and examples of work on an ongoing basis. Please send to younglungs.wpg@gmail.com or fill in the online form.
Use this form to apply as a writer
Use this form to apply as a visual artist, filmmaker or photographer
Listing of Essays
Over the last couple years we have been commissioning writers and visual artists/photographers to critically respond to and engage with the research of the artists-in-residence through creative essays. Below is the collection of creative essays to date.
Photo Credit – Featured header image: Michelle Panting 2019