Workshop Series with Jennifer Essex and Harry Man
Wed Dec 19 2018 @ 10:00 am

-

5:00 pm

|

Recurring Event

(See all)

One event on Wed Dec 19 2018 at 10:00am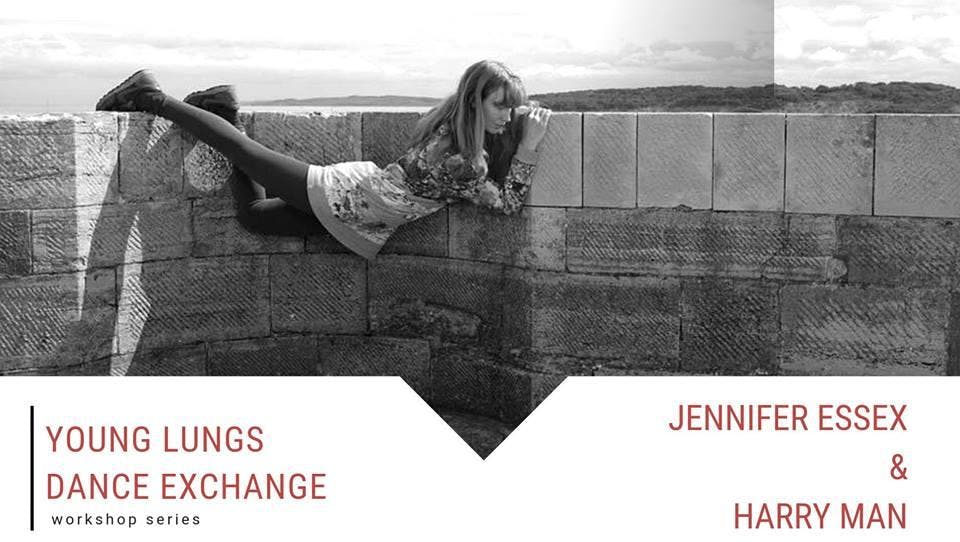 Are you an actor and/or dancer interested in building truthful characters to create emotionally resonant performances? Are you a choreographer, director and/or movement director looking to develop unique, rounded characters? If so, clear your calendars on December 18 and 19 because Young Lungs Dance Exchange is bringing UK-based choreographer, dancer, and teacher Jennifer Essex and award-winning poet Harry Man's renowned workshops to Canada for the first time ever.
• Day One – Casting Characters
Morning Workshop with Jennifer Essex
The Body as a Starting Point for Character Creation
How we can start with the physical to develop unique, quirky and authentic characters.
The session will draw on theory to underpin practice, referencing the work in particular of Konstantin Stanislavski and Rudolf Laban in order to develop a set of practical principles with which to develop characters with dynamic, interesting and believable movements and motivations.
We'll also explore the rhythms of comedy and how we can use them to create characters that make us laugh as well as moving us to tears.
You'll leave with a new toolkit of ideas you can use in your own practice. Come dressed ready to move.
• Day One – Casting Characters (Continued)
Afternoon Workshop with Harry Man
Breaking Bard – Creating Characters from Page to Stage
"The purpose of art is to impart the sensation of things as they are perceived and not as they are known." – Viktor Shlovsky. How can we create characters that think, feel and act independently and still tell a coherent and compelling story? From Ovid and Tolstoy to Marilynne Robinson and Alistair Mcdowall, we'll explore how to develop characters with unexpected depths and contrasts in a variety of contexts including indoor and outdoor theatre and site-specific work.
We'll examine the types and roles of dialogue in characterisation, and borrow some tools of the trade from the worlds of scriptwriting for screen and stage. In the process we'll develop our own characters to take home with us, to see what stories they have to tell…
• Day Two – (E)merging Technology and Collaborative Practice
Morning Workshop with Jennifer Essex & Harry Man
Break on Through to the Other Side: Interdisciplinary Collaboration for Beginners
In this fun and exciting hands-on workshop, we'll explore some practical tips and tricks to create fruitful collaborative processes. Drawing on a broad spectrum of international examples, we'll discuss options for finding collaborators nationally and internationally. We'll also explore the creation of combined methodologies, and finally look at platforms that support the creation and presentation of collaborative works.
The workshop will look at a wide range of methodologies and participants will come away with a toolkit of activities they can use in their own practice to promote ideas across art forms and beyond, into collaborations with non-artistic disciplines.
• Day Two – (E)merging Technology and Collaborative Practice (continued)
Afternoon Workshop with Jennifer Essex and Harry Man
No Ideas but in Things: Technology and Contemporary Theatre Practice
What stories could a plank of wood tell? How can language or sound burst from the ground and envelope a dancer? What is a metonymical field? When does technology stand between a performer and the audience and when is it a third actor and enabler? In this workshop, we'll see how technology can translate our ideas, from Shakespeare's plays rewritten in the language of NASA's InSight Mars rover, to testing and developing your own augmented reality pieces for sharing with the rest of the group.
Jennifer Essex (b. 1980) works as a choreographer, dancer, and teacher on projects across the UK and internationally. Her choreography for award winning visual artist Corin Sworn was shown at the Whitechapel Gallery as part of the Max Mara Art Prize for Women. She has developed movement for innovative projects including a stop-motion film for French fashion house Hermes, an interactive video with the award-winning team from Studio Murmur, and a "choreophonic prosthetic" with high tech designer Di Mainstone. Her work has been supported by the Canada Council for the Arts, Arts Council England, Dance City, and Pavilion Dance. She was a 2015-2016 BENCH fellow. Jennifer has performed in the feature films Anna Karenina and Les Miserables and in adverts for Hermes and Honda as well as in works by world-renown choreographers including Sidi Larbi Cherkaoui, Liam Steel, and Luca. She is a Senior Lecturer in Dance at Teesside University.
Harry Man (b. 1982) is an internationally recognised poet and translator. He teaches Creative Writing as a Core Tutor at Oxford University. His first book Lift was the winner of the UNESCO Bridges of Struga Award in 2014 and he was shortlisted for two Sabotage Awards including 'Best Pamphlet' and 'Best Collaborative Work'. His latest pamphlet, Finders Keepers, written in collaboration with the visual artist Sophie Gainsley was shortlisted for the Ted Hughes Award for New Work in Poetry. 'Harry Man stands out as an exciting new voice in the UK, bridging the gap between page and stage, science and art' (Poetry International). He is a TOAST Fellow and former Poet in Residence at the Wordsworth Trust. He has collaborated with neuroscientists, visual artists, astrophysicists, ecologists, photographers and dance choreographers throughout Europe.
About Young Lungs Dance Exchange:
Young Lungs Dance Exchange is a not-for-profit artist-run service organization committed to the development, creation and presentation of contemporary dance and interdisciplinary performance in Winnipeg.
Buy Tickets